There are those who might be tempted to dismiss Cebu as just another second-tier provincial city in a developing country. No matter how much we talk about our lifestyle and our importance as a heart of commerce, the bigshot travelling executive from the West may consider Cebu as just another hick town in a hick part of the world.

Nothing could be further from the truth. What is the difference between hicksville and a cosmopolitan city? The difference is glamor. And there is no better event in Cebu to prove that we have oodles of it than the Miss Cebu pageant, held annually to coincide with the Sinulog festivities. Miss Cebu is glamor in purely concentrated form; no occasion is more important in Cebu's calendar of events as Miss Cebu, other than, of course, the Sinulog itself. It's not just another beauty pageant; Miss Cebu is a beauty pageant, the Acadamy Awards, the latest Paris collection, and Las Vegas all rolled into one.

Every town - every village - has its pageant in the Philippines, but most of these events flash by unnoticed in the current of time. Miss Cebu, on the other hand, is the second most important pageant in the Philippines, after the Miss Philippines event. Originally called Miss Cebu Tourism, the Miss Cebu event is still organized by the Cebu City Tourism Commission. That is why it's so good. Miss Cebu is Cebu's way of saying to the world: "Look at us. Look at what we have to offer. Check it out."

The eventual winner must do a good job of representing Cebu. To this end the candidates are given a tour of museums, and given workshops and seminars on everything from politics (courtesy of Councilor Arsenio Pacana) to self defense training (courtesy of Phalanx Unified Martial Arts).

The elite of Cebuano society shows up for the Miss Cebu event. The garage of the Waterfront Hotel in Lahug was once again overflowing with luxury vehicles; inside, tycoons greeted each other ("Pit Senyor!"), politicians hobnobbed with industrialists, and their wives preened.

Unlike the Sinulog itself, which as usual was an organizational fiasco, Miss Cebu was superbly well organized under the leadership of Philip Rodriguez, an urbane fashion designer who served as project chairman of the event. The theme this year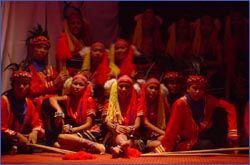 was "Cebu: Where Currents Meet", and various judging sections were punctuated by song and dance numbers designed to illustrate this concept. (Incidentally, in case you're unfortunate enough never to have been to a world-class beauty pageant, the song and dance numbers are performed by professional dance companies - not by the contestants.)
In the case of Miss Cebu 2005, Rochelle "Raki" Vega, Cebu's very own winner of a nationwide diva competition, was there to serenade the crowds, as was rising star Christian Bautista. In keeping with the theme, dance troupes performed numbers inspired by Chinese, Spanish, and American culture, as well as Cebu's own Sinulog. Most of these performances were of such high calibre that they alone would have merited a show of their own.
Then there's the fashion. Cebu's designers proved once again that their talent is second-to-none, with stunning evening gowns that would make even the plainest girl look glamorous. Imagine the effect as ten perfectly proportioned head-turners glide on to the stage in fabulously elegant dresses: it is enough to take the breath away of even the most seasoned photojournalist.
Beauty pageants have gone somewhat out of fashion in the West, and to cater to the tides of criticism from latter-day feminists, the organizers of beauty pageants in places like the US nowadays tend to put more emphasis on various talents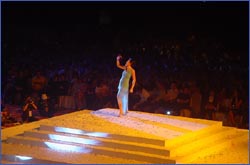 (such as singing ability), or the right story, or abstract concepts such as inner beauty. Not so in Cebu: beauty is what a beauty pageant is about, and beauty shall reign supreme. Cebuanos, obsessed with looking good to begin with, make sure that the prettiest girl comes out holding the crown.
The judging is serious business. Runners, immaculately attired in white shirts and black slacks, literally run down the aisles, shuttling the judges' scoresheets to the back office, where earnest young people with spectacles and calculators tabulate and retabulate the results. Security is tight: Wa'y Blima! tried to take a peek and was immediately hustled out of sight by taciturn staff.
As midnight approaches, five finalists remain on stage; the rest are already scrubbing their make-up off. Lesser prizes - such as most photogenic, best gown, etc. - have long been awarded, and slot numbers three, four, and five have been filled. The host prattles on, the audience suffers through the banter, and finally, here it is: the moment of truth. And the winner is... Katrina Minoza. Second? Please. Nobody ever remembers who came in second.
Balloon and confetti fly through the air, and Mayor Tomas Osmena and Vice Mayor Mike Rama go up to congratulate the winner. But for once, just this once, the spotlight isn't on them. Tonight, it is a young woman's turn to shine, and no-one notices as the politicians amble off, anonymous amongst the throng of people going home.
Ms Minoza, as it turned out, already had a couple of titles under her belt: Miss Lapu-Lapu and Miss Mandaue. It goes without saying that all of Cebu is rooting for her to take home Miss Philippines. While the city government expects her to concentrate on fulfilling her duties supporting the tourism industry of Cebu, what better way could there be for her to publicize Cebu than to win the national crown? Wa'y Blima!, for one, hopes she brings home the Miss World title. Go girl!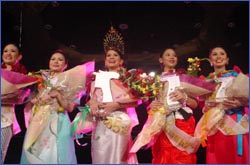 Miss Cebu 2005 Sarah Katrina A. Minoza.
First Runner-Up Sarah Lei Spagnolo.
Second Runner-Up Maricon L. Esperanza
Third Runner-Up Michaelyn M Ledda
Fourth Runner-Up Marinela O. Tajanlangit
Best in Evening Gown Sarah Katrina A. Minoza
Miss Fuji YKL Photogenic Sarah Lei Spagnolo
Miss Waterfront Friendship Candy Baraquia
Mega's Choice Best Designer Mario Colmenares (for Michaelyn M. Ledda)


NOTE: There is no swimsuit competition in Cebu.
Production Credits
Finalists Isabell Seever Aguipo, Candy G Baraquia, Maricon L Esperanza, ] Michaelyn M Ledda, Sarah Katrina Minoza, Mae Janice Miral, Sarah Lei Spagnola, Marinela O Tajanlangit, April Lynn Villanueva, Charita Marie A Yap
Stage Design Walfrey Mercado
Opening Program Dancers University of the Visayas, University of Cebu, Knapsacks, Zynkronz, Cebu City Dancesports Team
MC, Artists, Guest Performers Edu Manzano, Philip Luiz Manzano, Christian Bautista, Rochelle "Raki" Vega, Jing Fegi, Gina Jane Grey & Company
Creative Director Genesis E Rana
Tabulator Sycip, Gorres, Velaya & Co.
Scriptwriter Vince Escario
Director Junjet Primor
Long Gown Designers Joy Bernaldez (Sarah Lei Spagnolo), William Manahan (Mae Janice J. Miral), Ray Kuan (Candy G. Baraquia), Myrna Cebrecus (Isbell Seever Aguipo), Rinante Manabat (Maricon L Esperanza), Dino Lloren (Marinela O Tajanlangit), Marichu Tan (April Lynn Villanueva), Protacio Empaces (Charita Marie A Yap), Wendell Quisido (Sarah Katrina Minoza), Mario Colmenares (Michaelyn M Ledda)
Long & Slinky Designers Oj Hofer, Jun-Jun Escario, Arcy Gayatin, Edwin Ao, Jude Elardo
Make-Up Artists Emy Ayag, Ramil Solis, Rhino Deparene, Roy Erwin Tizon, Aris Baguio, Rhines Borden, Vic Eyao, Lloyd Aytona, Keneth Yamas


Organization Credits
CCTC Chairman Vice Mayor Michael L. Rama
CCTC Consultant Madame Margarita V. Osmena
Project Chairman Philip Rodriguez
Assistant Project Chairperson Maria Christina Garcia
Treasurer Olivia Lynn Uy-Dizon
CCTC Secretariat Cinbeth E. Orellano, Anna Lorrain B. Menchavez, Shangrila J. Valencia, Jose Noel K. Navascues, Nino Richie T. Matilos
General Legal Counsel Attorney Jane Paredes
Committee on Sponsorships Cinbeth E. Orellano, Shangrila J. Valencia, Anna Lorraine B. Menchavez
Committee on Collaterals & Documentation Genesis Rana, Raul Arambulo, Cinbeth E. Orellano
Committee on Search/Screening/Judges/Personality Development Petite Garcia, Honey Loop, CCTC Secretariat
Committee on Publicity Honey Loop, Nagiel Banacia, Guia Estrella Chua
Committee on Physical Arrangement Honey Loop, Olivia Lynn Uy-Dizon, ID Varela, Walfrey Mercado, Jennifer Sevilla, CCTC Secretariat
Committee on Food and Transportation Joan Young Tiu, CCTC Secretariat
Committee on Production Philip Rodriguez, Junjet Primor, Vince Escario
Committee on Invitations & Tickets Honey Loop, Maria Christina Garcia, Olivia Lynn Uy-Dizon, Cinbeth E. Orellano
Committee on Prizes Honey Loop, Olivia Lynn Uy-Dizon, CCTC Secretariat
Committee on Side Events Philip Rodriguez, Olivia Lynn Uy-Dizon, ID Varela, Vice-Mayor's Staff, Knapsacks

NOTE: CCTC stands for Cebu City Tourism Commission