Not found on the itinerary of any city tour but definitely worth a visit is Cebu's wholesale fish market. It probably has an official name of some sort, but everyone just refers to it by the barangay where it is located: Pasil.

Being an island, Cebu is blessed with immediate access to the bountiful riches of the sea. But if you tend to dine at restaurants, you may be disappointed by the lack of variety on the menu: it's either lapu-lapu, lapu-lapu, lapu-lapu, or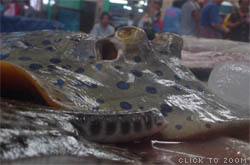 tangigue, tangigue, tangigue. Even at Sutukil, the seafood restaurants near the Mactan Shrine, where you pick your fish from the various specimens displayed on ice and have it prepared according to your preferences, only a limited selection is available.
And that is one reason why a visit to Pasil is so enlightening; the sheer variety of fish available is staggering. Visitors from colder climes are bound to be fascinated by the multicolored fish - given Cebu's location, you can definitely call them tropical fish - Cebuanos consider food. Wa'y Blima!'s favorite creature in terms of looks is the kyampao, a flat fish which, incredibly, comes with blue polka dots.
And then there's the volume: the greater part of seafood consumed in Cebu passes through Pasil, and since Cebuanos rank near the top of the list of the world's fish lovers, that's a lot of seafood. At peak times the cavernous building, the size of about four or five basketball courts, is packed with boxes and boxes of styrofoam containers, stacks of tin buckets brimming with ice and fish, and throngs of traders.
It should be noted that Pasil is the wholesale market for fresh fish only; the dried or salted fish is traded at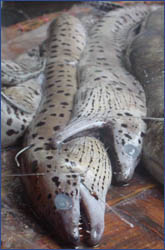 Taboan. And since the ware is fresh, it is best to get to Pasil early, at about dawn. The activity is frenetic, and peters out during the day. The photographs on this page were taken between 8:00 and 9:00, after most products had already been shipped to wet markets and restaurants around the city. By this time, the wholesale activity had largely ceased, and most of trading was in retail. Still, there was plenty to see.
What exactly is so much fun at Pasil? It is the sights: glistening marine life of every imaginable description. It is the sounds: the rushing roar of ice being poured out of huge buckets. It is the smells: the powerful aroma of the ocean. But above all, it is the people: crusty old vendors, engaging in timeless banter; their little kids, roaming around in gangs; burly kargadors, vying each other for strength; and snooty madames, on the prowl for the freshest fish at bargain prices.
To get to Pasil, head to the downtown area and ask; Pasil is a short walk from Colon or Taboan. Note that parking is difficult, so use public transportation such as a taxi or a tartanilla (a buggy drawn by a mangy half-starved and overworked horse, common in that area of Cebu). Now, Cebuanos will tell you that Pasil is in a high-crime zone, but as usual, nobody accosted this photographer. Perhaps, though, you should be prudent and take the precaution of not wearing your best diamond choker when visiting Pasil.