Well, Cebu is a hot place, and that's one of the things that makes it nice. But for native Cebuanos and visitors alike, cold refreshment provides welcome relief from the heat, and some pretty cool stuff has evolved over the years, namely, halo-halo.

Halo-halo is the Philippine national dessert. The term means "all mixed up" in some non-Cebuano language, and mixed up is indeed what it is. If I'm not mistaken the roots of the halo-halo can be found in Japan; shaved ice with syrup is a popular snack there. The Philippines imported that concept and added a whole lot more, such as ice cream, jelly, cereal, and God knows what else.

Halo-halo can be had at lots of places, such as Ice Castle (Raintree Mall, Ayala, SM, Crossroads), Goldilocks (just about everywhere), and Chowking, the uniquitous Chinese fastfood chain from Manila. I'm told that the halo-halo at Ice Castle is the best, though personally I think the one at MacJoy (Ayala or Colon) rules supreme.

While halo-halo boasts a tradition going back many decades, the Thirsty? stands are rather more recent. The brainchild of Cebuano entrepreneur Bunny Pages, Thirsty? haven't invented anything original, but they've taken existing concepts and delivered them with extreme grace. Thirst stalls, ubiquitous in malls and street corners, serve fresh shakes and juices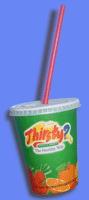 made from fresh fruits. The concept is simple but it has been implemented well, and it works; I've hardly ever seen a Thirsty? stand without a gaggle of people amassed around. Part of the appeal lies in the fact that the shakes and juices can be purchased in small sizes, preferred by Cebuanos, for less than a dollar.
Some of the fruit varieties available are orange, apple, pineapple, lychee, mango, green mango, carrot, strawberry from Bagio (when in season). Amazingly, the customer may freely select a mixture of fruit varieties that go into her drink, without changing the price. You could order, for example, an apple and lychee shake.
I'm told that Bunny is planning to take his Thirsty? stalls to Manila and beyond. I'm hoping that Thirsty? one day makes it to other Asian countries and even the US and Europe, thus becoming the first Cebuano chain to go global. Who knows, there might be a Thirsty? stall in your cold and dreary city one day.
Note that, as is always the case when a business succeeds, a few imitators have put up their own fresh fruit stalls; these have been largely ignored by brand-conscious Cebuanos, probably to the great puzzlement of their owners.
Thirsty? can be reached at thirstycebu [at] yahoo [dot] com.
Another treat you should not miss out on is the iced teas provided by Quickly, a Taiwanese chain that has expanded rapidly all over Southeast Asia. While the teas served by Quickly are a bit sweeter and less fragrant than those of an upmarket tea house, the ubiquitous stalls do provide welcome relief from the heat in the form of iced teas in numerous flavors. Be sure to try the ones with gulaman or sago pellets, which are great fun to suck up via Quickly's extra-thick straws.