As is the case for so many aspects of life in Cebu, shopping for groceries is divided into the Bisdak and the sosyal. The former is dirt cheap and incredibly unhygienic (by the standards you are most probably used to) and the latter is snobbish and needlessly expensive (for most people in Cebu). This article assumes that you will - initially, at least - be tending towards the latter. (A separate photo essay about shopping at the public markets will be published elsewhere in this website.)

The fanciest, most expensive, and best-stocked places are supermarkets. The supermarkets operate according to the American, rather than the European, model; you do not need to bring your own bag, and a bagger will be standing behind the cashier to put your shopping into plastic bags. The staff at METRO and SM supermarkets even bring your shopping to your car. Officially, you are not supposed to tip, but most people give a 10-20 peso tip.

Prices are high for imported items and ridiculously low for local items. Some excellent work has been done by Don Herrington on prices, so I won't go into detail.

There are a handful of supermarket operators in Cebu. First there's Metro, who can be found in every Gaisano shopping center as well as the Ayala Center mall. The one in Ayala is probably the supermarket in Cebu closest to G8 standards, although there is little difference between the stores. The branch at the Gaisano Country Mall also gets a lot of foreign shoppers and stocks a larger than usual variety of imported products.

Next there's SM Supermarket, found in the SM City mall. The group has branded the supermarkets as "SaveMore Supermarkets," although the original name of the group is Shoemart. We just call everything SM. Other than the store at the SM mall, there's one SM Supermarket in the Marina Mall in Mactan, and one in the eMall (aka Elizabeth Mall).

Then there's Robinson's. They have one store in the Robinson's Mall at the Robinson's department store in Fuente and another one in the Banilad Town Centre, which opened in July, 2005.

While there is little to choose between the aforementioned three players, all of which are upscale, you notice a distinct downmarket shift at White Gold Club. Despite the name, this is not a club; there are no membership cards or fees and it's just a regular supermarket. White Gold Club have been struggling to stay in the running, primarily by cutting prices, so White Gold is - as far as I can tell - the market leader in terms of low prices. White Gold Club are located across the Queen City cemetery, near SM City.

Another low-price leader is the big supermarket in the downtown area, situated on Colon Street and called Colonnade Supermarket. Colonnade do not have a parking area, but there is a big pay parking area right across the street. In June 2005, after oil prices started hitting new highs, Colonnade took the drastic step of switching off their air conditioners.

At the bottom end of market are Prince Warehouse, vaguely classifiable as supermarkets. There is no parking, period, because few of Prince's customers own cars. Prices are low, product lines limited to the cheapest goods, and anything that doesn't move quickly is covered in a thick layer of dust.

The black sheep of Cebu's groceries scene is Makro. This is a Manila-based discounter, identical to the kind of superstore common in the US. There's nary an employee in sight except the occasional driver of the electric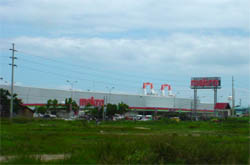 forklift, whirring by with what looks like 2 tons of pet food. You do need to sign up and get a membership card, and Makro are very strict about letting people in: no cameras, no cellphones with cameras, no companions, and - this one really bugs me - no headwear of any kind. I hate the place, but I have to admit it is clean, the quality of the goods is high, and prices are good, if not jaw-droppingly low. A lot of small businesses get their supplies at Makro rather than from distributors. As a result, checking out takes ages and ages, while box after box is unloaded from the oversized dollies which Makro prefers to shopping carts.
At all and any of the supermarkets, you can essentially get all basic groceries you would expect to find at any supermarket in the West - except tampons, which for some reason are not preferred here. Note also that the product lines are a bit narrower than in developed countries. In most cases, only the core product lines from the major manufacturers are available. For example, you can get peanut butter, half a dozen brands, local or imported, chunky or creamy, in containers large and small. However, you CANNOT get organic peanut butter for diabetics made using fair-trade peanuts. For that, you need to call the folks at home in Denmark or California or wherever you came from.
At the upscale supermarkets, staff are plentiful and helpful, and your shopping experience should be pleasant enough. However, outdated standards remain in some aspects. For example, when returning to a Metro store to have a defective item replaced, you come face-to-face with the petty bureaucracy still too common in banana republics. First, you are directed to the Customer Service counter, where you are questioned about your defective item. So far, so good. However, the Customer Service counter then sends you to the security guard at the entrance of the store, who will question you again, inspect your item, and fill out a form giving you permission to bring the defective item back into the store. Then, you go back to the Customer Service counter. Then you go find an item to replace your defective item. Then, if you still have the energy to walk, you go back to the Customer Service counter and have the item replaced.
You may also get annoyed when buying fresh produce. The fishmonger or butcher in the supermarket will fill out a little form, and enclose it in a separate heat-sealed compartment of the plastic bag containing your squid or liver or whatever. When you check out, this slip is torn out by the cashier, and run through the teller machine, printed, and filed away. Of course, Cebuanos are very patient, and nobody ever complains.
You may notice a peculiar phenomenon near the checkout counters, namely shopping cart upon shopping cart piled full of unsorted products. This is what is known as subra, or "excess." Cebuanos have a tendency to spend every single centavo of the cash they have in hand; otherwise, the trip to the grocery and the money is just wasted, right? So if a shopper has, say, a 500 peso bill in her purse, she will pile up items in her shopping basket worth about 700 pesos. Then, as the tally nears 500, she will ask the cashier to check how much more is left before the 500 is spent. Cashiers are so used to this that, often, they will ask you your budget if you are taking an obvious interest in the number on the screen.
Excess items are piled on to the sweets, toothbrushes and batteries occupying the shelves near the check out counter, unless a basket has been expressly provided.
At the checkout counter, you are usually asked whether you wish to pay with cash or credit, and most stores have special checkout aisles for the cashless. Here, "credit" may mean a local debit card, or a kind of voucher which some people trade in. You may have trouble paying with your foreign-issued credit card, so try to pay in cash if you can.
There are no 24-hour supermarkets in Cebu. Store hours are usually 10:00 AM to about 8:00 PM, except at the Metro in the Gaisano Country Mall, which opens early, at 8:00 AM.
The photos at right were taken at Metro Ayala. Photography is not allowed at any of the grocery stores. The pictures were taken furtively, while in motion, so as to fool the numerous security guards - hence the low quality of the photos. The pictures are essentially for reassuring you that, despite the prevalent poverty, the stores in the Philippines are, in fact, well-stocked, rather like the foreign exchange stores in Soviet Russia once were.