While Wa'y Blima! Cebu debuted in October, 2004, this article was late in coming, not because we are not interested in medical care for animals. The problem is that we are far too involved with the veterinary scene - having arrived in Cebu with 6 cats and accumulated an even larger number over the years, in addition to owning the usual Filipino assortment of dogs, chickens, goats and water buffalos - that an objective article was impossible to write. However, readers do keep writing and asking for advice on the subject, so here - at the risk of incurring the wrath of a large swathe of Cebuano society - is a fairly subjective article on the delicate topic of finding a good veterinarian in Cebu.

It used to be the case that Cebu had only two reliable vets. There is a veterinary clinic on every street, it would be seem, but most of these are not worth a visit. Why? Simply because the quality of care you will get - according to, it must be emphasized, our totally subjective experience - is sub-par. This is, we assume, because of two reasons.

One, due to the relatively low standards at most colleges and the entire educational system in general, you get your share of vets who are simply incompetent - for instance, a sprained ankle your kitty-kitty incurred when tumbling from a tree may be diagnosed as being broken. Lab tests may not be ordered; instead the vet will rely on instinct and prescribe some treatment which has nothing to do with the actual cause of the symptoms (for example, vitamins to cure mange, which may often be the correct treatment but sometimes are not). Sometimes - sad but true - the vet will be more ignorant of feline or canine behavior, never mind diseases and symptoms, than the average educated animal lover from the West.

Two, the diagnoses and treatment may not be exhaustive because animals are considered as property rather than as companions. Animal rights is not one of the Philippines' strong points, and the population's attitude towards animals is rather different from what is the norm in the West, or even Japan (itself often criticized for abuse of animal rights). The general population, of course, includes the young people who go on to become veterinary students, the teachers at veterinary colleges, and veterinarians themselves.

Everyone in the Philippines grows up watching dogs tethered to plastic ropes so short the dog can't lie down, chickens left tied to a street pole by the dusty roadside without any water, and cats that are in worse shape than New York City's rats. This is not to pass judgement on this country; bear in mind that the situation in Europe 300 years ago was just as bad, if not worse - at least in the Philippines cats are not thrown onto bon fires while still alive. Moreover, it is understandable - if regrettable - that not much attention goes to the welfare of animals when a substantial portion of the human population has trouble scraping enough money together for the next meal.

In any case, the state of animal rights being what it is in the Philippines, it is not surprising that the attitude you get - irrespective of technical competence - from most of the vets is not quite what you are used to if you are flying in from, say, Connecticut.

Anyway, the recommended vets in Cebu were, for several years, Dr Ed Delacruz, of the Dog & Cat Clinic, and Dr Ging Berdon, queen of her Animal Kingdom - both graduates of UP (University of the Philippines, probably the only institution in the Philippines capable of producing world-class veterinarians). Unfortunately, due to mounting extracurricular interests, in recent years neither has been as dedicated as they might be. Nonetheless, it goes without saying, both remain competent and reliable vets - both are outstanding surgeons - and are probably still better bet than your average non-UP vet; in particular, Dr Ging (pronounced Gheeng) Berdon received the National Shopper's Choice Award (an objective award based on surveys of consumers) for veterinary care in Cebu in 2005, which should account for something.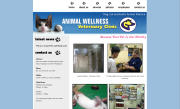 Cebu now has, thank heavens, a really good animal clinic, called Animal Wellness. It's run by two UP alumni, and is by far the best place to take your pet. They even have an X-ray machine! Last time I heard, they were talking about installing an ultrasound. Animal Wellness also is happy to take care of "exotic" pets such as lizards, and it should be noted that one of their vets is fond of birds, so if your cockatoo isn't eating well, head straight for the Animal Wellness clinic. In fact, you should do that whether your sickly friend sports fur, feathers, or fins.