In Cebu, the term "bus" refers exclusively to a public transportation vehicle linking the city with provincial towns. Urban transport is the domain of the jeepney; buses and v-hires will take you to the provinces. (The exception is the Khaosiung Bus, which refers to one of a fleet of buses donated by the Taiwanese city of Khaosiung; the fleet is owned by the city and used for transporting the children of the urban poor.)

Buses come in all shapes and sizes, and are sometimes as richly decorated as jeeps. They can be distinguished from jeeps by the fact that the entrance is on the right side, as opposed to the back. In most cases, buses are larger than jeeps. Buses, like jeeps, rely on open windows for airconditiong. The seats are in front-facing rows, and passengers may be forced to stand if the bus is full.

In Cebu City, buses can be boarded at one of two terminals, the North Bus Terminal and the South Bus Terminal. It doesn't take a scientist to guess that buses destined for the North start at the North Bus Terminal, and southbound buses can be boarded at the South Bus Terminal. But where do you go if you want to go West, across the island? The answer is the South Bus Terminal, since buses heading to Toledo swing by Naga, which is south of Cebu. Toledo has its own bus terminal.

There are several large companies. Due to aggressive expansion - they gobbled up several smaller companies - the largest is currently Ceres Liner. Ceres buses are bright yellow buses; unlike the more common hand-crafted, lovingly decorated buses, Ceres Liners sport nothing but a logo (but I have to admit the logo is pretty classy). Ceres even have their own terminal, right next to the South Bus Terminal.

Another large company is D' Rough Riders Express. Try to avoid these buses; the drivers live up to the company's name, and Rough Riders have been involved in countless fatal accidents. For some reason they tend to rehire drivers who have been proven to have caused fatal accidents. While passengers are usually safe - the victims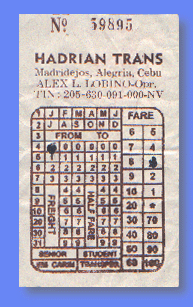 have been mostly pedestrians, cyclists, and other smaller, weaker prey - you will be delayed for hours on end if your bus is involved in fatal accident. An additional problem is that Rough Riders are on bad terms with NPA rebels in the north, and their buses are burned to cinders every now and again, leaving passengers stranded without their belongings.
Buses wait till reasonably full before departing the terminal. You can disembark at any time by telling the conductor. When returning to the city, you can board anywhere; just stand by the roadside and stick a finger in the air. If the bus ignores you, it's usually because it's already too full to take on extra passengers.
Fares are usually less than 100 pesos; even the farthest destinations are less than 150 pesos. Conductors in most bus companies use quaint hole-punchers to define and issue tickets; a sample is depicted at right. Be sure to pay the conductor and not the driver. Note that, if you pay with a bill, it may be a few miles before you get your change - don't worry, conductors never forget to provide change.
Most bus companies allow vendors to board and sell their wares; the vendors will get on, do their thing, and then get off after a few kilometers. I assume they then board a bus heading the opposite direction. While on board, vendors announce their wares by endlessly repeating the items in question. You may hear this:
"Tubig, tubig, tubig, tubig, tubig, tubig, tubig, tubig, tubig, tubig, tubig, tubig, tubig, tubig, tubig, tubig, tubig, tubig, tubig, tubig, tubig, tubig, tubig, tubig, tubig, tubig, tubig, tubig, tubig, tubig, tubig, tubig, tubig, tubig, tubig, tubig, tubig, tubig, tubig, tubig, tubig, tubig, tubig, tubig, tubig, tubig, tubig, tubig, tubig, tubig, tubig, tubig, tubig."
Tubig means "water"; the water sold is usually Nature's Spring brand mineral water. Other items commonly sold on buses are chicharon (pork skin cracklings), ampao (rice wafer cakes), and itlog (hard-boiled eggs).
Since often several vendors board a bus at the same time, things can get quite a bit noisy. While stereos are not allowed on jeeps, buses usually have powerful sound systems. Leg room is considerably diminished due to the space taken up by the speakers; Cebuanos consider this a fair trade-off.