Wa'y Blima! recently got a tip about a small restaurant within a house in a subdivision; apparently someone had converted part of her kitchen into an eatery. That sounded like just the thing to impress our readers. Sure, the tables would probably be formica, the decor would probably be a calendar from an auto-parts shop, and the furniture would probably be empty cases of softdrinks, but something tucked away out of public sight and known only to a favored few would still make a good story. So on April 14 we packed our gear and headed to Santo Nino Village, in Banilad.

We had the shock of our lives. Pound for pound, the artfully named 10 Dove Street is nothing short of the best restaurant in Cebu. Indeed, if Cebu were located in the French heartland, you'd find the Michelin logo on the door.

The decor is exquisite. The food is excellent. And the quality of the tableware is far superior to that of any other restaurant in Cebu - and we include the tony restaurants at the top hotels in this statement. Where we expected half-bent forks and spoons that don't match, we found gleaming utensils that wouldn't look out of place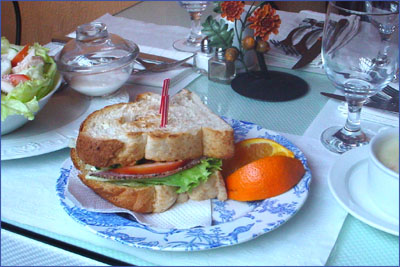 in an English mansion. Where we expected Melaware, we found Dresden china which had clearly been chosen and shipped to Cebu with extreme care. Where we expected fried chicken, we found saltimboca. Saltimboca in Banilad? Cebu has arrived.
Let's go back to the beginning. 10 Dove Street is primarily the work of three sisters, two of whom live in the US. Marisol, who is Cebu-based and manages the restaurant, happens to run a successful business making home-made cakes and other delicacies. That is why 10 Dove Street street is a perfect place to drop by for coffee in the middle of the afternoon.
But the sisters in the US - Chuchi and Viki - also contributed to the creation of 10 Dove Street. Instead of merely providing the green money which financed the establishment of 10 Dove Street, Chuchi took charge of the decor, bringing her first-world tastes, sensibilities and standards to the interior design. The result of a flurry of intercontinental emails flying back and forth is a compact box of sophistication that somehow landed in Santo Nino Village.
Of course, running a restaurant out of a residence in a subdivision has its drawbacks. To cut a long and convoluted story short, Marisol had to promise the village elders to run it "quietly." That's why 10 Dove Street isn't advertised or even mentioned in the newspapers, and that's why this article is a Wa'y Blima! exclusive.
The lack of exposure is not entirely a bad thing, however. For one thing, 10 Dove Street is the perfect date spot. Want to impress your date? 10 Dove Street is the place to go. Be sure to keep your date mystified as you head towards the Santo Nino Village guardhouse. Say something like, "I know a friend here who has this little place in her own house... " When you do arrive, the cozy and fairy-tale like atmosphere will provide the perfect romantic backdrop to your dream date. Not surprising then, that at least one proposal has taken place in the premises of 10 Dove Street.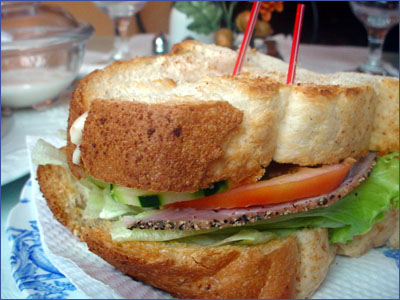 But what about the food? The Resto Quest is supposed to be about good food, and so far this article has done little except swoon over the tasteful interior of the restaurant. Well, needless to say, the food is fantastic, if a little unorthodox.
It must have been a brazen, daring decision to banish rice from the menu, but the gamble paid off. One of the reasons that 10 Dove Street is such a fabulous place is that Viki - the US-based sister who developed the menu - insisted on keeping it simple. In addition to cakes and pastries, the menu features just sandwiches, salads, and soups. The sandwiches are the heart of the fare, but it's somewhat unfair to call them sandwiches. Moist yet carefully toasted and crunchy, flavorful in their own right, huge chunks of bread serve as a backdrop to an artistic medley of fresh lettuce and whatever delight the diner selected: a rich slice of roast beef, a fragrant portion of fried fish, a juicy layer of turkey ham...
Calling the playfully named creations on the menu - "Porky's Nightmare", "Thai Experience", "Ocean's Bounty" - sandwiches is like calling Michael Jordan a basketball player. When sandwich evolution stops, you get the intricate and filling meals available only at 10 Dove Street.
As you would expect of a first-rate restaurant, prices are reasonable. For 150 pesos, you get the whole enchilada (sandwich + soup + salad + cake). If you prefer to just have a sandwich, the charge is 60 pesos, but you'd be missing out on a treat. Where else in Cebu can you get rare delights such as apricot sauce or blue cheese dressing at such prices? Unless you're just dropping by for coffee and cake, you really want to order the whole set - plus another one to take home and feast on later.