Perhaps it is the gentle climate, perhaps it is the charms of the Cebuana; Japanese restaurants keep opening regularly. While a growing number of Cebuanos do appreciate the finer points of Japanese cuisine, and a sizeable community of Japanese expats does reside in Cebu, supply still far exceeds supply, and the competition is fierce. Consequently, you get to enjoy the highest standards of Japanese cuisine in Cebu.

Indeed, the previous ambassador from Japan, Mr Takano, told Wa'y Blima! Cebu that the best Japanese restaurant in the Philippines is in Cebu. His Excellency was referring to Yumeya Kihei (in Mabolo). But since early this year Yumeya Kihei has two formidable contenders threatening its crown. One is Azumino, located on the street leading towards Maria Luisa Estate Park.

The other is Kagura, a stone's throw away, on A.S. Fortuna street.

The design of the place is stunningly elegant. Clearly the work of an expert architect of the highest calibre, bamboo and soaring pillars have been used to create a modern Japanesque atmosphere, a completely different dimension from the cluttered interior of most Japanese restaurants. Regrettably, however, the operators of the restaurant - who are leasing the building - lack sufficient appreciation for the beauty of their place, and decorated the restaurant with posters stuck to glass facades (using scotch tape), and tacky kitsch. Nonetheless, they haven't quite managed to destroy the ambience, and Kagura remains a wonderful space.

The place is huge, seating about 200 in comfort. While you can sit at a Western-style table, you really should slip off your footwear and slide yourself into Japanese-style seats, originally intended to keep your feet toasty during cold winter nights.

Design and ambience aside, the best thing about Kagura is, of course, the food. Not only is the owner and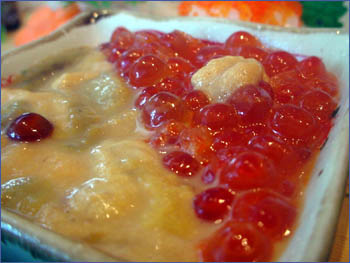 manager Japanese, a Japanese chef, Mr Tomoyake Oyake, has been flown in to oversee the kitchen and ensure that the 20 or so cooks uphold the highest standards.
Technically, Kagura is an izakaya, a drinking establishment which also serves food, in the form of smallish dishes which are ordered at a leisurely pace as the evening wears on. However, while Kagura does boast a splendid selection of sake (Japanese rice wine), and a number of Japanese and non-Japanese drunks do show up regularly, its true value lies as a fine dining restaurant.
Best of all is the fresh fish. We recommend the sashimi moriawase (a selection of raw fish). The pricing is absurdly low; just 500 pesos will get you a sumptuous feast supposedly for one, but unless you are a retired sumo wrestler - and they have been known to show up at Kagura - it's definitely sufficient for two persons.
The quality of the fish is superb every time. Tender salmon that melts in your mouth, crunchy octopus, slithering slivers of squid, sweet raw shrimp, and our personal favorite, divine sea urchin which is unlike anything you've tasted before.
If you've never tried sashimi, you may be at a loss at how to proceed. Sashimi is served with grated white radish, pickled ginger, and wasabi. You may be familiar with this spicy paste made of a type of green radish - unlike the Cebuano sili, which stings the lips and oral cavity, the wasabi hits you in the nose, and is a source of amusement as it causes tearing if you take too much. It should be noted, however, that one does not need to eat the wasabi. Purists prefer to leave it on the plate and enjoy the color. If you do wish to try it, you have two options: either mix a tiny (tiny!) amount into your soy sauce container, or dab a tiny (tiny!) amount directly on to the fish.
Be careful also not to dunk your sashimi into your soy sauce. While novices can be forgiven for being clumsy with chopsticks and accidentally dropping their fish into the soy sauce, the sliver of fish should never be submerged into soy sauce, or placed in the saucer holding the Kikkoman. Instead, suspend your fish from your chopsticks, and allow a corner or two to come into contact with the soy sauce - that's more than enough. Otherwise, the salty toyo will obscure the flavor of the fish and you'll just be wasting the experience.
The white radish and pink ginger serve to cleanse the palate after eating a particularly oily or fishy piece of fish.
Chef Oyake told us that his personal favorite are actually nimono, Japanese stews. You might want to try those. But be warned that Japanese stews are unlike the soups Cebuanos are used to, and best enjoyed in cold climates. If you do order a stew, the best place to enjoy it is at the one table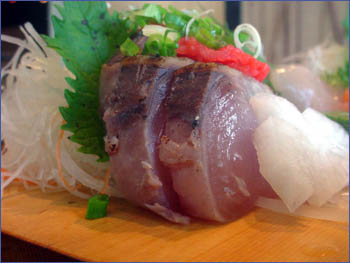 at Kagura that has an irori, the Japanese hearth around which families gather in the northern parts of Japan, to eat, drink, and swap stories all night long. The irori at Kagura is probably the only one in Cebu, if not the Philippines.
There is one other thing that we should mention. Kagura happens to be the only restaurant in Cebu that offers its customers free Wi-Fi Internet access. We actually tested this, and it worked fine. Perhaps that is why Kagura is quickly becoming the favorite hangout of laptop-toting elite Cebuanos. If you are one of them who hasn't been to Kagura yet, we suggest you do so pronto, though we don't know if your Apple iBook is compatible with the connection - we used a run-of-the-mill Windows machine.
Note that Kagura also has a gigantic Japanese style spa in the back. This may be somewhat of a culture shock for anyone except hard-core Japan fans. Our advice would be to enjoy the restaurant as long as it lasts.