Celebrated cognoscenti and respected gourmets agree, there are three culinary heritages in the world which are not merely good, but great. These are the French, Chinese, and Indian traditions. In those countries, it has been said, the standard of sophistication has been raised beyond cooking to a fine art, and it takes years of experience and training to not just prepare the food, but to appreciate its finer nuances.

There are plenty of Chinese restaurants in Cebu. French cuisine, too, has had its share of representation. Yet Cebu has been deprived of an authentic Indian restaurant for years. The Taj Mahal, which was located across the Capitol and whose food was atrocious, deservedly went belly-up in 2002. Since then, the imitiation Indian fare of Persian Palate was the only option for fans of a decent curry, unless of course one hopped on a plane bound for Manila, Singapore, or Hong Kong. (In all fairness to Persian Palate, it should be noted that they do a superb job with Middle Eastern dishes.)

It was therefore with great rejoicing that Wa'y Blima! welcomed the news that a new Indian restaurant had opened in Century Plaza, the little agglomeration of shops and stores across Mango Square (with Chika-an sa Cebu in the middle). Finally, Cebu can lay claim to its place amongst the cosmoplitan cities of the world, for no city can consider itself anything close to cosmopolitan without at least one Indian restaurant.

Having been denied access to good Indian food for many years, we Cebuano fans of samosas, palak paneers, keema curries, tandoori chicken and all the other wondrous delicacies indigenous to the subcontinent would have been extremely happy with any Indian restaurant, even if it were run by a balikbayan whose only contact with India was the occasional trip to a Bangladeshi curry joint in London's East End. Even if served samosas dripping with oil and oversalted, underspiced curries, we wouldn't have complained too much; heck, something's better than nothing at all.

Imagine our delight when we discovered that the Maharaja happens to be a far better Indian restaurant than one can find even in Manila. Now Cebu has not just the best Japanese restaurant in the Philippines (Yumeya Kihei), but also the best Indian restaurant for 1,000 miles in any direction.

The owner - a bona fide, authentic, genuine Indian national by the name of Gulab "Soni" Vasnami - proudly explained that his chef was not only brought to the Philippines for the express purpose of working at Maharaja, but that he was trained at Hotel Oberoi, an Indian chain of five-star hotels.

No surprise, then, that the food is not just good, but excellent. While this reviewer cannot claim to understand the finest nuances of Indian cuisine, the quality of Maharaja's dishes is immediately obvious. The Maharaja's nan - the heavenly oven-baked flat bread unique to northern India - is fluffy, warm, and perfect. The curries are caleidoscopes of harmonious flavors where no single spice is allowed to predominate. As a result, not just the local Indian community, but also locals and expatriates have been patronizing Maharaja since it opened in March, 2005. When Wa'y Blima! reviewed Maharaja, the place was buzzing with guests who had all heard about it by word of mouth.

But the good news doesn't end there. In keeping with Hindu tradition, Maharaja happens to be the only restaurant in Cebu serving authentic pure vegetarian dishes. Now, there are a number of restaurants in Cebu which serve dishes made from exclusively plant matter, and that's great. But the strictest vegetarianism requires not just the ingredients to be free of meat, but the cooking utensils to be free of any speck of contamination by meat.

When Soni explained that he keeps two pots of oil, one for frying the usual fare and one for cooking vegetarian dishes, we insisted on being allowed to take a look. Lo and behold, two giant vats of oil dominate the kitchen. Vincent Mondal, the chef, explained that not just the oil, but all utensils, from cutting boards to knives, is kept strictly separate.

And that is why Maharaja quickly became popular with strictly Taoist and Buddhist believers in the local Chinese community. Soni accommodated their needs by adding a number of Chinese dishes to his menu, which was pretty extensive to begin with. Hence, Maharaja happens to be not only the sole restaurant serving strict vegetarian Indian dishes, but also the only restaurant in town offering strictly vegetarian Chinese cuisine. "I like monopolies," says Soni.

Soni hails from Jaipur, in Rajasthan, known as the "Pink City" for the pinkish glow reflected by its buildings. Having spent two decades in West Africa running a textile business, he decided to relocate to Cebu, in order to give his children a better education. Who would have thought we have our long-suffering and hard-working educators are to thank for the arrival of a world-class Indian restaurant?

Now, in any other global metropolis, even one saturated to the brim with dozens of Pakistani, Bangladeshi, Sri Lankan and Indian restaurants (like Tokyo, London, or New York), Maharaja would be a smashing success, due to the high quality and low prices of the dishes on the menu. The only problem is that Cebuanos, as yet not aware of majesty of Indian cuisine, might not appreciate this gift from the gods.

If you've never tried Indian food, you definitely should. It may come across as strongly pungent at first ("Sus, baho!"), and like wine, cigars, or coffee, it is perhaps not immediately appealing, but as you acquire the taste, you can begin to appreciate it's complexities and qualities. Eventually, you may find yourself addicted, like the entire population of England which has appropriated the Indian vindaloo as its national dish.

Here's a quick primer on Indian food. A traditional Indian-style hearth is called a "tandoor" in Hindi, the national language of India. Hence, food prepared by a tandoor is called tandoori: tandoori chicken, for instance, is chicken marinated, skewered, and roasted in the oven. Soni had local builders create a tandoor from scratch. The tandoor has to be kept filled with burning charcoal around the clock and goes through one sack a day.

Nan, undoubtedly one of the best kinds of bread in the world, is made by slapping dough against the wall of the tandoor. The appeal of nan is universal; Soni confirmed that Cebuanos have taken an immediate liking to nan.

Maharaja serves a mind-bogglingly large selection of standard Indian dishes which can be found across the entire vast Indian subcontinent. Wa'y Blima! asked Soni which specific dishes might be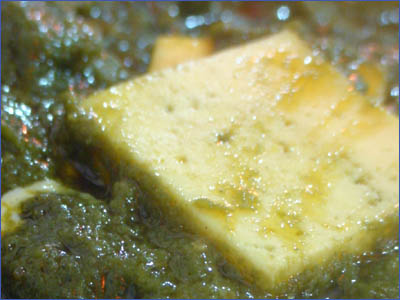 recommended to Cebuanos trying Indian food for the first time. Soni suggested that, since we're used to barbecue, we might readily appreciate tandoori chicken, chicken tikka, or fish tikka (cubed and marinated chunks of blue marlin).
If you're ready to take the plunge deep into Indian culture, try one of the curries. Soni recommends the mutton curry, palak paneer, or pork butter masala. The palak paneer is a popular vegetarian dish made from spinach and cottage cheese; in the case of Maharaja the cottage cheese wasn't available here in Cebu so it is - incredibly - made from 100 percent fresh milk by the chef himself. Pork butter masala, meanwhile, is an Indian dish only available in Cebu, since Indians eat neither pork nor beef. If you prefer the more authentic version, you could go for the chicken masala.
All curries can be served mildly spicy, but if you're a true-blue Cebuano and eat your sili, you shouldn't be hesitant of trying the properly hot versions. And please, feel free to put your kinamot skills to good use; Indians, too, tend to eat with their hands, or rather their right hand. (Come to think of it, India and the Philippines have a lot in common, such as gaining independence right after the war and having two national languages, one based on the dominant ethnic group, and the other English, inherited from the colonial masters - but that's another story.)
Note that Indian vegetarian dishes do not contain eggs but sometimes contain dairy products. Maharaja uniquely offers "vegetarian fish" and "vegetarian chicken", which are concoctions, imported from Taiwan, made from soy beans and other vegetable matter, rather like veggie meat (the imitiation beef product).
The Maharaja's decor is not extravagant and Soni has kept the lid on overhead; as a result, prices are exceedingly reasonable. A lavish meal for two can be had for less than 500 pesos. If you're reading this review in Manila, Bacolod, or Davao and are an avid fan of Indian food, you may wish to hop on the next flight to check out Maharaja's fare yourself.