For the inaugural installment of the Resto Quest, the relentless search for delectable dishes in Cebu, Wa'y Blima! went to

SaVibo

, a stand-alone restaurant in Guadalupe, literally a stone's throw from the long-established Mooon Cafe.

At first brush, SaVibo is the type of cozy little restaurant that is sorely under-represented in Cebu. With most of the better dining establishments concentrated in the hotels, malls and entertainment centers, Cebu could definitely use more destination restaurants - restaurants in quiet neighborhoods one can drive to for the explicit purpose of a good dining experience. SaVibo seems to fit the bill; it's located in a residential area, has it's own parking lot, and has been loving created by a balikbayan couple who are passionate about good food.
John and Faith Po launched SaVibo in late 2004. Now, it's usually the wife who badgers the husband for the chance to run a business, but in the Pos' case the birth of the business was a romantic development: the husband was so enamored of his wife's cooking skills that he talked her into returning to Cebu and opening a restaurant.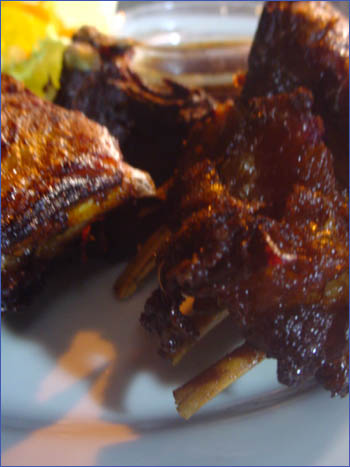 Faith says she didn't take much interest in cooking until forced into the kitchen by a lack of helpers in the New Zealand lifestyle. Soon she was trawling Vietnamese groceries in search of ingredients essential to Cebuano cuisine. (Despite her Chinese surname and heritage, Faith for some reason features dishes from every imaginable culture except the Chinese: her menu, although an eclectic mix of Cebuano, Italian, and French cuisine, didn't include a single Chinese dish when Wa'y Blima! dropped by in February, 2005.)
It sounds perfect: a dedicated owner who manages her own little restaurant sorely out of a passion for food. Unfortunately, however, Faith has still some ways to go before her expertise catches up with her passion. SaVibo is still worth regular visits, however, thanks to a single imaginative dish on Faith's menu: Crispy Kanding.
Cebu has long been renknowned for its goat meat. Visitors from Manila inevitably make sure to get a good helping of goat stew as soon as they get off the plane. But, for some strange reason, the only way the goat is ever prepared is in the form of stew, or caldereta. Except at SaVibo, that is, where you can order crispy goat's meat, somewhat similar to crispy pata. It's a delectable delicacy that brings out the full flavor of the goat meat without any untoward interference from tomatoes, onions, and suchlike. And enjoying the real flavor of any food is, as any seasoned gourmet will tell you, the essence of being a connoisseur.
As far as Wa'y Blima! is aware, the only other place in Cebu - or anywhere else in the world, for that matter - you can have this dish is in a fly-infested, open-air stall in Lapu-Lapu. The environment at SaVibo is considerably more pleasant; the interior design is elegant and, needless to say, airconditioned. Check it out. Prices are absurdly low, averaging about a hundred pesos; the Crispy Kanding was priced at a mere 120 pesos. Cakes from the same supplier that delivers to Bo's Coffee Club are available for dessert.